Saturday is the last day of our second annual Children's Book Drive. We are collecting new or gently used German language books for kids ages 0-16. Let's spread some Holiday cheer to some children in need!
---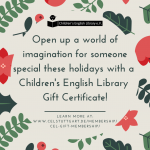 If you are looking for a non-material gift this Holiday season, a CEL membership gift certificate is a great choice! You can purchase online at celstuttgart.de or at the library during opening hours.
---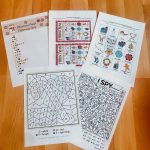 Don't forget we have take-home Christmas Activity Packets and coloring sheets available until the holiday break!
---
We also have 12 brand new picture books to discover and enjoy! Come by and check one out!
And if you can't make it into CEL we have added some Christmas stories for pre-schoolers and school children to our virtual story time so you can join in with the seasonal fun. http://celstuttgart.de/books/virtual-story-time/ If you need the password please ask info@celstuttgart.de