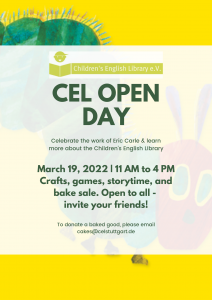 "The theme of this year's Open Day is Eric Carle, who grew up right here in Stuttgart!
Saturday, March 19 from 11:00am – 4pm
Dress up as your favorite book character and receive a special treat!
The library will be open to all so be sure to invite your friends that might be interested in checking out what CEL has to offer.
We will be hosting a Bake Sale to raise funds for the library. If you can donate a goodie for the sale, please email
cakes@celstuttgart.de
."