We are happy to announce that the CEL is now allowed to open! We will initially be open on Friday mornings from 10:00 – 12:00 and Saturday afternoons from 14:00 – 17:00.
We will still need to follow a hygiene concept. Masks are required, try to maintain distance from the volunteer and other members, wash/disinfect your hands, and sign in on the contact sheet.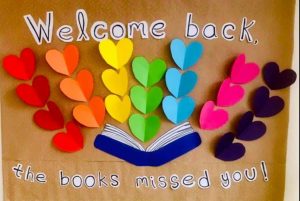 Only two families at a time will be allowed to enter the library. If there are families waiting then visits will be limited to 30 minutes. Please check with the volunteer upon arriving if you can enter.
CEL Corona Prevention Measures – whilst in the library…
Facemask covering nose and mouth must be worn at all times
Hands should be disinfected before entering the library
Only members are allowed in the library.
All members must give their name and membership number on arrival which will be logged so that we know who has been in the library when.
Only two families are allowed in the library at any one time
Social distancing must be maintained – children must remain with their parent(s) and a distance of at least 2m be kept between families
The library is open for borrowing and returning books ONLY
Reading on the sofa/floor is only allowed if there are no other families present. If people are waiting you will be limited to 30 minutes.
There can be no activities
The library may not be used as a meeting place with other families
The toilet may be used by you MUST thoroughly clean it after use with the materials provided and sign to say you have done so.
Please help us keep our volunteers and members safe by abiding by these rules.
Thank you.