Hello Members,
We would like to invite you to a summer get-together at the Katzenbacher Hof on Saturday June 24th from 11-3. There is a cash only food and beverage kiosk, picnic tables, and a large playground. It's a great opportunity to socialize and meet other members. We hope you can join us!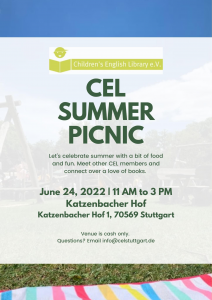 Our Summer Reading Challenge Starts on July 1st. The reading logs will be available to pick up at the library. All ages are welcome to participate- read yourself or have someone read to you! See more details on the flyer below.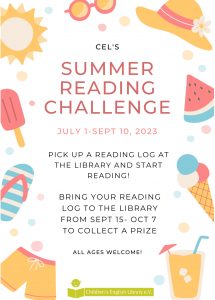 Don't forget this Saturday is Yoga in the Park at 2pm in the Vaihinger Stadtpark. All ages welcome. Please bring a towel or blanket to place under your yoga mat. No sign up required. After the yoga class, stop by the library and exchange your books!
Best wishes and happy reading,
the CEL board