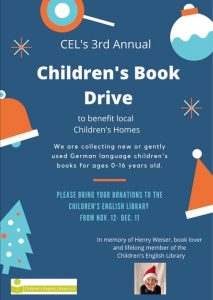 It is time to get started on our third annual Children's Book Drive! ❤️📚❤️
We will be collecting new or gently used German-language children's books to donate to local Children's Homes for ages 0-16 years old.
Let's spread some holiday cheer and send out some love into our community. 🎄❤️
If you have any books that you would like to donate, please visit us at the Children's English Library Stuttgart between November 12 and December 11
Opening Hours*:
Fridays 10-12 & 14:30 – 17:30 and Saturdays 14:00 – 17:00
Please help us by donating books if you can and by spreading the word to others by sharing this post or sharing the attached flyer with your friends and family.
*there is a shareable post on the public CEL Facebook page.
Children's English Library e.V.
Hauptstraße 19
70563 Stuttgart
Email:info@celstuttgart.de
Opening Hours*:
Fridays 10-12 & 14:30 – 17:30 and Saturdays 14:00 – 17:00