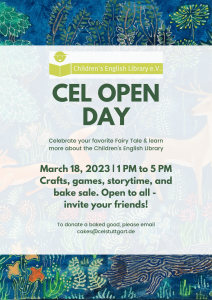 We can't wait to see your costumes and celebrate the love of books and reading with you!
Open Day is tomorrow, Saturday, March 17 from 1-5pm.
Join your friends at the Children's English Library for an afternoon of crafts, games, and stories.
Our address is Hauptstraße 19, 70563 Stuttgart, near the U-Bahn lines. Parking is also available in the Parkhaus Vaihinger Markt.